Orhan Yiğit, retired geophysicist, 68 years old, brings the magnetic sand he discovered years ago to tourism in the district in the art workshop he opened.
66-year-old retired geophysical engineer Orhan Yiğit, who came to Ordu's Ünye district 7 years ago, discovered magnetic sand while walking with his children on the beach.
Yiğit brought the products he made from thousands of magnetic sands to tourism in the workshop he set up in Kaledere Mahallesi of the district on Kazancılar Caddesi.
Geophysical engineer Orhan Yiğit, who transforms the magnetic sand containing various minerals related to stress and health into handicrafts by absorbing the negative energy in the human body, would like to contribute to the promotion of the district thanks to the workshop he founded.
"I turned my workplace into an art workshop"
Orhan Yiğit said he will play an important role in promoting the district by making thousands of jewelry and various products from magnetic sand in the workshop he opened. "Seven years ago, after I retired, I came to Ünye. After I started living in Ünye, I saw that there was a lack of tourism. I discovered the magnetic sand in our district and in seven countries around the world on our thirty kilometers of beaches. I decided to open an exhibition. I turned my workplace into an art workshop, creating souvenirs, historical magnets and jewelry unique to our district. When we went to the beach one day in 2019, the sand was sticky all over the beaches in our area.
"Each piece of jewelery demonstrably relieves people"
Too much sand stuck to my daughter. So I researched why these sands stick. After this discovery, I started a major advertising campaign to promote our district. However, after the intervention of the pandemic, we have suspended our production. People started coming to Ünye to use this magnetic sand. Regarding tourism, we will ensure that local and foreign tourists who come to our district can see this exhibition. There are almost twenty minerals in the magnetic sand accessories, and each one has a different frequency. Every piece of jewelry has been proven to relieve stress." called.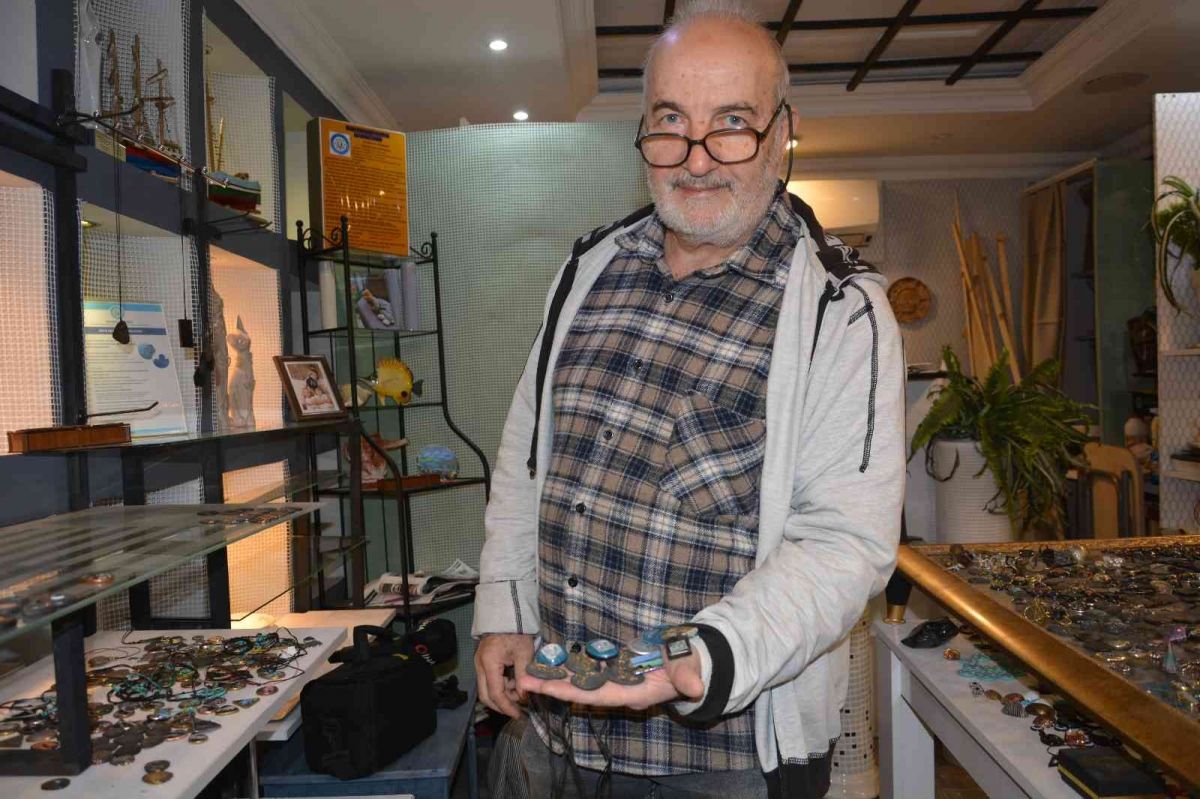 "I think we will contribute to tourism in our county"
Orhan Yiğit who said that he made the magnetic sand handicraft products he made by narrating about Ünye, "Rather than making a single product, I try to make tens of thousands of different types of each. Every craft I make is not the same, but a personalized work. Here, works unique to our Ünye, magnets that tell the story, combining important tourist spots of our county with sand. "We will have produced a product with an artistic work. I think we will contribute to our county's tourism." he said.