"Those in mental institutions, prisoners, excluded from society… These are the artists of this movement. They taught themselves to draw and sculpt, often claiming that this talent was a revelation, psychotic, without any training or intellectual environment. Artists who have not received their admission. Here is an introduction to the 'art brut' movement, referred to in some sources in Turkish as 'raw art'…" This is how I started my previous article describing the Museum of Art Brut collection in Lausanne, Switzerland, and now I continue with the retrospective exhibition of Jean Dubuffet, founder of the Art Brut movement, this time in Martigny , Switzerland…
The very famous ski resort of Chamonix, just below Mont Blanc, Martigny, where for this reason many tourists come and go, but with its extreme tranquility and small population still gives the feeling of a god-forgotten place, offers an incredible view You are overlooking the Mountains, ironically have ugly buildings, Turkey is a "city" that can only be described as a city. Here is Léonard Gianadda of Martigny, who angered this city after the sudden death of his brother Pierre Gianadda, 'My brother wanted this city to be known and known, he also loved art.', which has signed very important exhibitions for years, Fondation Pierre Gianadda(Pierre Gianadda Foundation). The Foundation's exhibition from this period, which has a wonderful sculpture garden which is the subject of an article of its own, is a retrospective of Jean Dubuffet, the famous child of Switzerland, since the Museum of the Art Brut movement he created, despite being French , is in this country.
Presented at the Pierre Gianadda Foundation in collaboration with the Center Georges-Pompidou in Paris, the Jean Dubuffet retrospective presents the artist's 50-year journey through various series. Rejecting dominant culture and accepted aesthetic values, and constantly searching how to reflect what he sees, Dubuffet sought to create extraordinary works, like people excluded from the society whose works he created collected, untouched and thought to have genuine creativity throughout his artistic life. For example, when I say tried, he's been working on the same series, same line, for 13 years!
In the exhibition, which revolves around the series in chronological and thematic order, you can see that the artist repeatedly pushes the limits. In this retrospective we see his work, in which he first examined the human body, then explored matter, gravel, earth, leaves and sand, repeatedly drawing detailed textures. Then there are the more popular paper drawings and gouache works and his calligraphic works, which he plays with words and rhythms and which he dedicates to his well-known friends. From 1961, after the start of his most famous cycle of grotesque sculptures and paintings, I learned by chance that he was collaborating with a Turkish composer and that he had edited a number of usable editing modules, choreographed by Jean McFaddi, sculptures and paintings, acted out by actors . Finally, we close the exhibition with a series dedicated to figuration.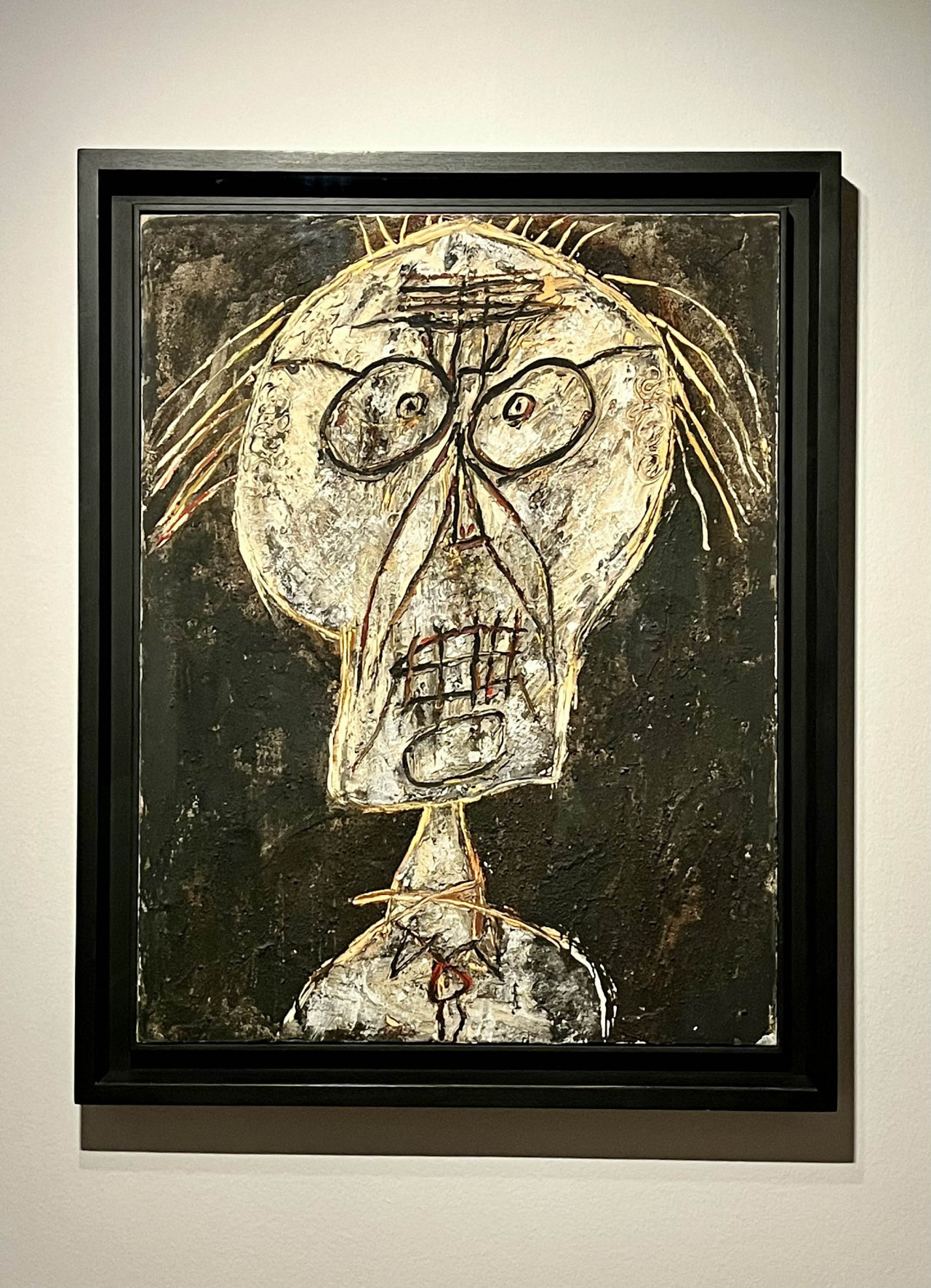 Knowing the life realities for Turkey and the economy, I know that those reading this article will not fail to visit the exhibition in Switzerland; For this reason, instead of describing the exhibition in detail, I would like to share a few topics that interest me the most and create an art magazine wave and entertainment by giving space to those who praise and criticize the exhibition ( what I said, with which series to connect).
One of the nicest details of the exhibition is that each series and even each grouped image has the artist's relevant phrases placed on it. For Dubuffet, the art journey is both a creative and an intellectual journey. Childish images that may seem ridiculous at first glance are actually "statements". It was an approach that struck me as like sherbet when the US took over the world contemporary art market. When you scrape together the meaningless works of certain very famous artists from the US, that's just marketing. In old-world Europe, readings, reflections and discussions… When Dubuffet coined the term Art Brut (raw art), it met with fierce institutional opposition and provoked struggles and debates within the academy. "Let me do something interesting, create a sensation and sell this very colourful, fun"It didn't happen like today. Whatever is totally against the nature of the artist, I can get there.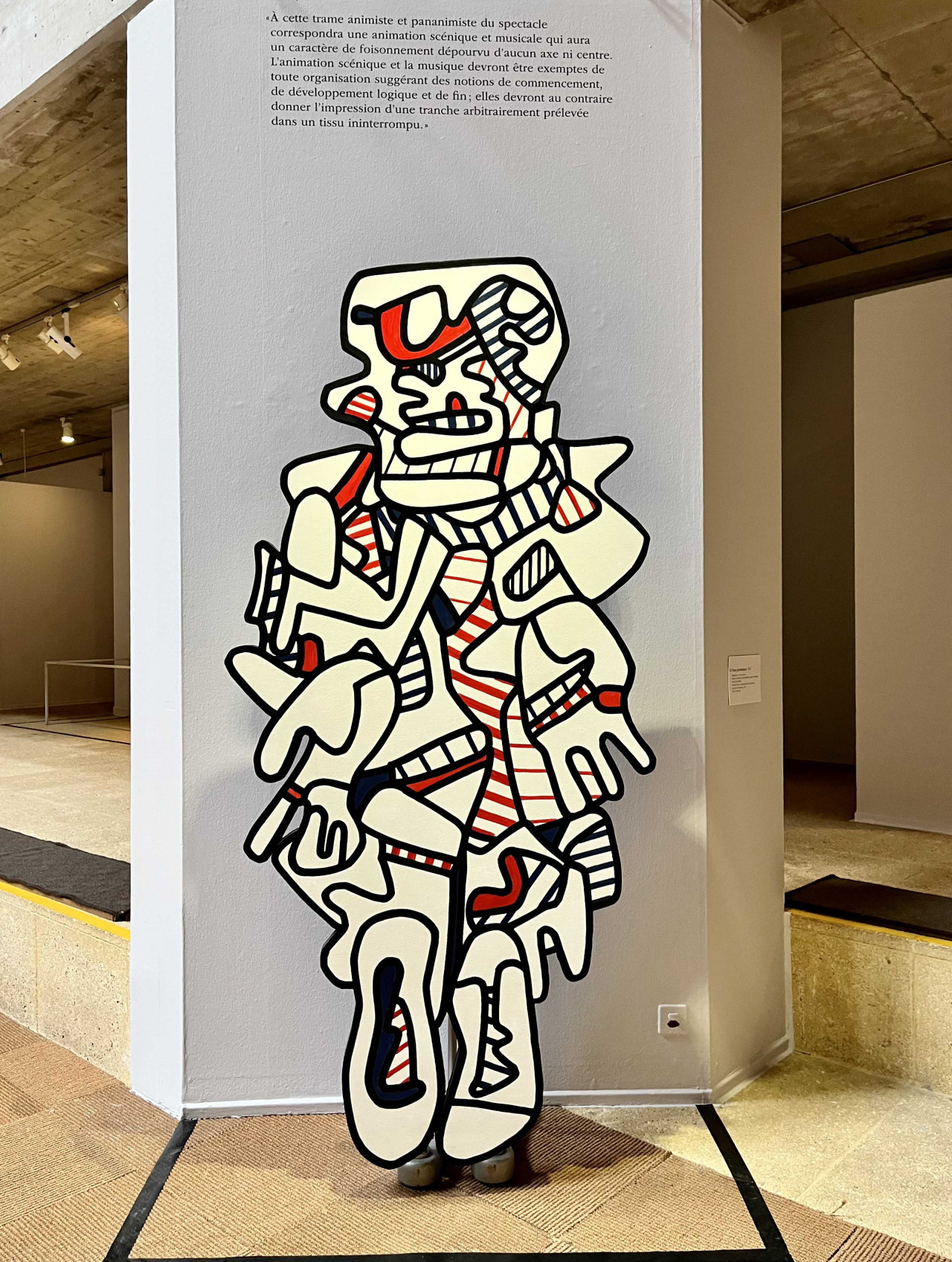 The other subject that caught my attention in the exhibition was bodywork. Dubuffet moves away from aesthetic understanding of the body and aesthetic eroticism. (You can read this article about Chaïm Soutine and Willem de Kooning, who also interpret the female body differently.) The body mentality imposed since the 1940s has reached completely different levels. Is there anyone who looks at social media today and doesn't feel inadequate? While all of these are "snake lies," as social media phrases say, "aesthetic acceptances" touches us so much, and it makes people happy to be indulged with a BUY YOURSELF attitude. Let the rules and rules of the aesthetics of bilateral relationships to personal body aesthetics destroy!
Speaking of Turkish composer, let me talk about İlhan Mimaroğlu and move on to the gossip. İlhan Mimaroğlu composed a special album for Jean Dubuffet's Coucou Bazar painting exhibition, and the duo presented this work to the art world in 1973 at the Guggenheim Museum in New York. There are even scholarly articles for the enthusiasts of this show, which uses painting, movement and music together.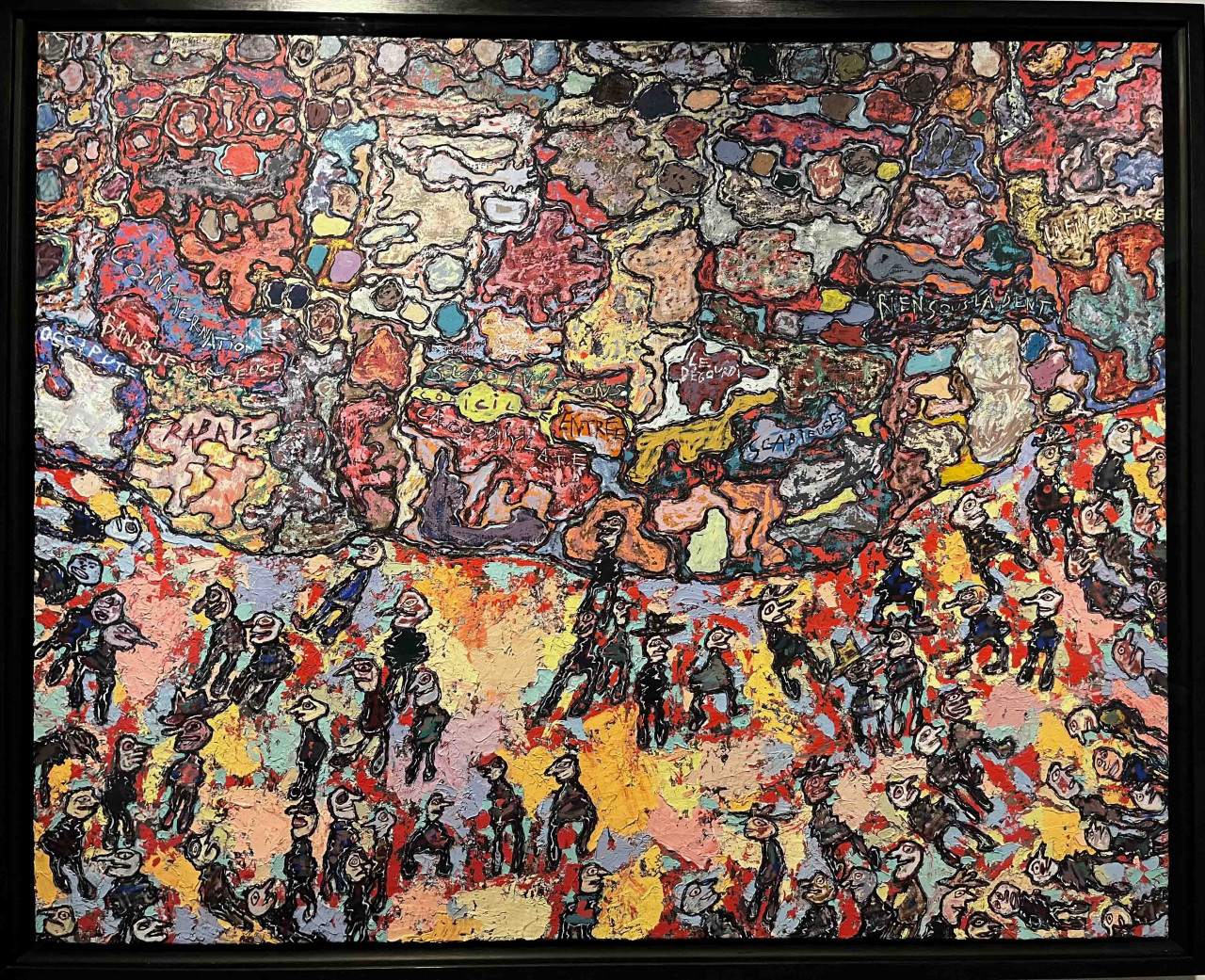 Finally, coming to the art magazine part… As I mentioned before, the exhibition is a collaboration between the Pierre Gianadda Foundation and the Center Pompidou, one of France's favourites. While the French press lavished praise on the exhibition, the Swiss press did not give in so much. Bilan's Etienne Dumont in particular acted like he was making a good showing and landed on the floor, which both informed and amused me. First of all, the author criticizes the Pierre Gianadda Foundation, which I found somewhat ordinary the situation of the place where such an exhibition takes place. According to Dumont, although the foundation was a small museum when it was founded, it distributed pamphlets to hundreds of thousands of people across Switzerland and had a second spokesman in Paris. Now it was on a significant decline. After the exhibition was postponed due to the pandemic, not much was done for its announcement. Dumont also accuses Sophie Duplaix, curator of contemporary collections at the Center Pompidou, of providing a kind of minimum service and criticizes the fact that Dubuffet's supporting materials and wider collection, whose works, possessions and photographs are already in many museums in Switzerland, are not located shown in this exhibition. From the Fondation Beyeler to the Photo Elysée in Lausanne to the MEG in Geneva, works can be found in many museums. But as a Turk stepping back onto European soil, did that cut me off? Cut. Let's finish with the most ironic part of the event, then… criticism of the academy, intellectuals, institutions, museums, official movements, against cultural dogmas, "True art is always where you least expect it. Where nobody thinks about it or mentions it,An artist now accepted in intellectual circles, Dubuffet has made his name in art history and has works in dozens of museums around the world. Look, even I've been talking for two weeks! That's how order comes, it swallows you up!
The Jean Dubuffet exhibition runs until June 6, 2022 in Martigny, Fondation Gianadda.