WALL – Documentary filmmaker Hasan Söylemez is presented with a new story after his award-winning feature-length documentary Tenere (1), in which he tells the true story of African people trying to cross the desert in a truck. Libya and Europe, starting from the city of Agadez in Niger. Soylemez this week began conducting the first field studies in the Central African Republic and meeting with authorities to set up security arrangements for the film, which will take a year to shoot.
We spoke to Söylemez about the preparations for her new film.
How was the story of the film "Metamorphosis" born and developed?
I made Tenere after being influenced by a photo I saw on the internet. So does "Metamorphosis". I came across a photo on the internet that was taken in Central African Republic in 1989. It was a very impressive photo. I researched the story of the photo and even reached out to the person who took the photo. Then I interviewed French entomologists (entomologists) and natives from the Central African Republic. In the last two years I have interviewed and researched many people. A very striking story emerged. Now I will pre-shoot this story in Central African Republic.
EVERYTHING WILL BE "REAL" IN THE MOVIE
Will there be professional actors in the film or will we see frontline people you meet on the ground in Africa?
The film's narrative language will be similar to a fictional film, but it will be a documentary cinema with real characters, dialogue and the course of events with little to no intervention. Some scenes of the film will be shot in Europe. Only part of the stages in Europe are set up and the actors are played. Apart from that, the whole movie will have real characters and real dialogue. When it comes to documentaries, people usually think of talking heads or a voice-over narration. There is no talking head, no voiceover in this film. We learn all the information from the real dialogues between the characters and the events that happened.
Could you give us a brief update on the locations of the film, its length, your team and the main theme of the film? How long is the shoot expected to last?
The film begins in the rainforests of the Central African Republic and extends to Europe. We shoot day and night for a year with a team of about 15 people. To briefly summarize the plot of the film; A butterfly hunter living a poor life with his family in the wilderness of Central African Republic hunts Africa's most prized butterfly with dreams of making it rich. The journey of prey and predator in their own life cycles continues in a trade network of hundreds of millions of dollars after butterfly meets predator.
What is the budget of the film?
To be honest, I can say that it is one of the biggest Turkish documentary film projects shot abroad. The biggest challenge for us is that 95% of the film was shot in Central African Republic and the shooting process was a breathless year. Therefore, the film's production budget reaches an astronomical figure of over 1.5 million dollars. 25 million TL if we calculate with today's exchange rate. The support we received from the Ministry is 1.6 million TL. We have a remaining deficit of 23.4 million TL. I will invest some myself to finance the film; Co-producers from Europe and America that we spoke to will also invest some money. However, even these are not enough.
So how do you plan to find the remaining money?
Such large projects are usually made at will, with the economic power of companies and broadcasters that are monopolized in the film industry. But I believe that a decentralized economic system like blockchain will pave the way for independent cinema to tell more authentic and powerful stories. So I developed an NFT project to fund the film. This project is one of the most interesting projects in the NFT world.
You know I did one of the most difficult journeys in the world by bike in January 2017 to explore the dreams of Africa and make documentaries. In this project called Journey To Dreams (JTD) I shot short and feature-length documentaries in 17 countries of West Africa on an unusual and very difficult three-year journey through deserts, rainforests, rivers, swamps and mountains. Tenere was one of them.
For safety reasons, I always had a GPS device with me on my trip to Africa. I turned on the device on the go and my position was determined by the signals coming from the satellite at certain time intervals. In three years, 4,650 satellite signals entered my GPS device. The coordinates, date and time of each signal differ from each other. We have contracted with a major technology company based in Canada and convert these signals into an NFT collection with our own contract on the Ethereum blockchain network. Each signal's data is converted to NFT using generative art, using the patterns and colors of the region from which it is received. Each of our NFTs is a modern work of art. Here we will combine the virtual and real world with these NFTs.
Think about it like this; Even every citizen on the street will be a co-investor in Metamorfoz. JTD NFT holders will receive lifetime royalties equal to 25 percent of the film's worldwide box office, television and digital platform earnings. After the festival processes, the film will first be shown in cinemas and then sold to television and digital platforms. After the film's financial statements have been audited by independent auditors, the dividends are shared annually.
We will most likely start the NFT project in late May or early June. Those who coin JTD-NFTs on launch day will have the right to print any name, limited to 15 characters, during the new film's closing credits. Whether you're printing your own name, your dog's, or your company's!
Of course, the privileges are not limited to these. On launch day, 5 collectors will come to the film set in Central African Republic, with all their expenses paid, through a draw held among the JTD NFT miners. 1 person comes to the world premiere of the film, 1 person comes to the US premiere, 1 person comes to the European premiere and 10 people watch the film with me. After the film's world premiere, there will be a special screening on Metaverse for those who have NFT.
The high-resolution format of JTD NFTs is defined in your Metamask wallet upon the first mints or marketplace sales. You are free to use these works as you wish, including for commercial purposes.
Of course there can be security risks when filming in the region. Which "sensitive" points would you like to pay attention to based on your previous experience in the Central African Republic? How do you ensure your safety?
Security is one of the most important issues. There is currently internal conflict and unrest in parts of the Central African Republic. I've always shot in risky areas. Since I was mostly on the road alone, I carried my own responsibility. But in "Metamorphosis" the situation is very different. We will be one big team. Therefore we must take maximum precautions.
An Africa summit was held in Istanbul last December, attended by African heads of state and foreign ministers. I was also invited to give a lecture on African cinema. There I met the foreign minister of the country where we wanted to shoot. I told them that I would have some demands, especially regarding security. He also said that he would like to help. One of my reasons for going there this week is to go over the details of how our security is being maintained. During the shooting we have to be accompanied by soldiers, the police or private security forces. I have thought of everything down to the smallest detail. I also have plans B, C and D. I hope that we can implement plan A without any problems.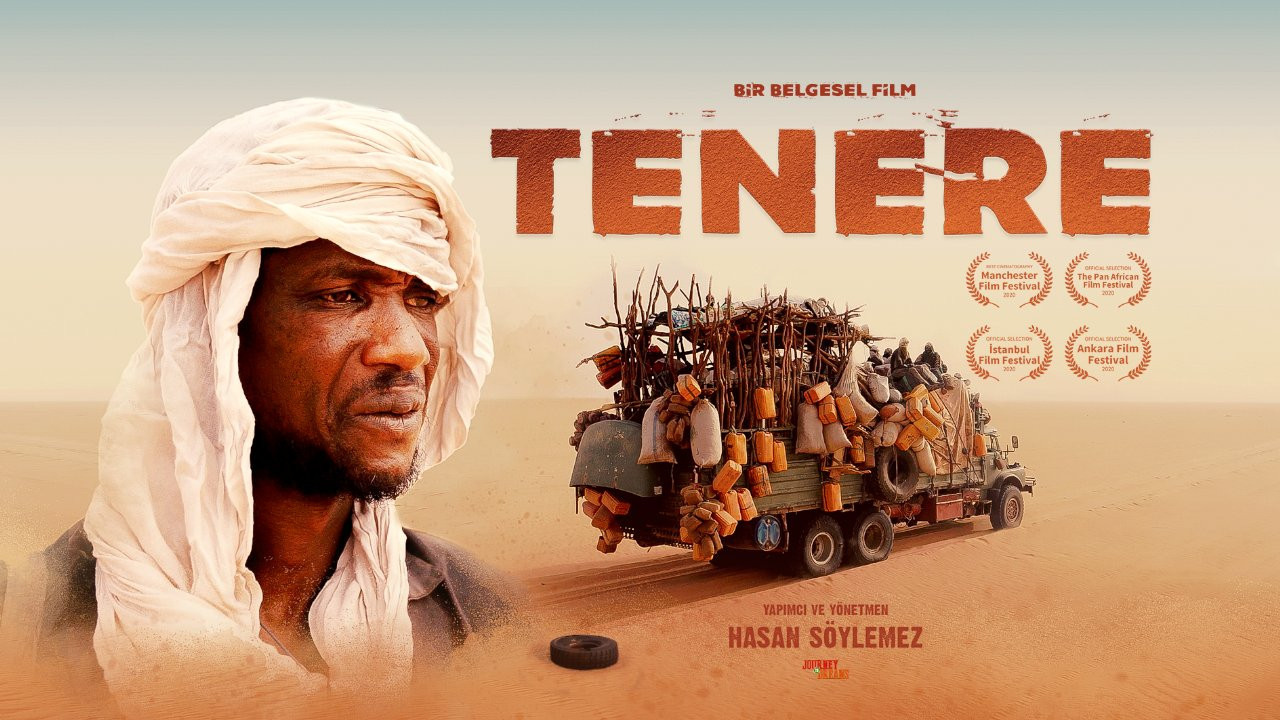 How does Tenere, your first feature-length documentary, which won you an award at the Manchester Film Festival, play a role in your career?
I can say that "Tenere" is one of the turning points of my career. I learned a lot from this film, which is exactly why it totally got me into feature film. Without "Tenere" I wouldn't have prepared for "Metamorphosis". Who knows, maybe after "Metamorphosis" I can reach another turning point.
Can you share some interesting events that happened during the filming of "Tenere"?
All those who tried to cross this "Tenere" desert, which is half the size of Turkey, where the nearest distance is 400 km, were on equal terms. Be it a goat, an immigrant or a soldier. If you try to cross the desert, your risk of getting lost, dying of thirst and dying is very high. When I left Agadez with the other passengers, I prepared as much as they did. I took enough food and water with me to last at least two weeks. I would be lying if I said I didn't know what to expect, I wasn't worried and I wasn't scared.
The phone doesn't work anyway, you can't communicate with anyone until you leave the desert. You always have a question in mind. I wonder if we can cross this desert safely. The fear of death is unlike anything else, when the difficulties we experience and the temperature of 45 degrees are added, the rhythm of your heartbeat changes. I spent about ten days in the desert and lost six kilos in those ten days. Human psychology is broken. Every place is the same, your perception of time and size changes. Other than the sand in the desert, all I saw was car junkyards and hundreds of car tires scattered everywhere. We don't know where we are. We go day and night, we go but we never arrive. We're constantly thinking about what to do if the car breaks down, we run out of water, or we get lost.
Technically, the hot weather was detrimental to electronic devices. I couldn't shoot for more than five minutes. Because the cameras got hot and shut down very quickly. I haven't made a film with a script that had the ability to do a scene over and over again. I didn't have the luxury of saying, "Let's try again, that scene didn't work." Everything was a shot. Either I caught it or I wouldn't catch it again. When the camera's top microphone broke, I had to tape it in place. But the weather was so hot that the tape melted. Then I cut open my shirt and used it as a rope.
Do you see yourself as an ambassador for Africa, a continent that has been forgotten or perhaps overlooked in the world of film and documentary?
No, I do not consider myself an ambassador. I'm just a storyteller. The reason my documentaries attract so much attention is that I tell unknown stories in a way that is unique to me, without intervention or dramatization.
Tenere is a desert region in the middle of southern Sahara.