Yeşilyurt Mayor Mehmet Çınar said: "We will bring a new living space to this region with our cultural, social, sports and artistic facilities that we will build on an area of ​​about 5 dekars next to our Çilesiz Aksa Mosque ." he said.
Yeşilyurt Municipality Mayor Mehmet Çınar, who examined the landscaping and area improvement works initiated by the Yeşilyurt Municipality Parks and Gardens Directorate next to the Çilesiz Aksa Mosque, said that they compared the amount of green flow per capita with the greening works and park projects that they will do in 2022.
Yeşilyurt Mayor Mehmet Çınar, who said that they have accelerated the park and greening works included in the 2022 investment program with the warming of the weather, stated that they are improving the citizens' quality of life with the new living quarters, parks and culture and arts centers would have settled in different parts of Yeşilyurt.
Mayor Çınar stated that they would bring social, artistic, cultural and educational spaces to the side of Çilesiz Aksa Mosque and address all citizens from 7 to 70, Mayor Çınar said: "As the weather gets warmer, our teams will become the park – und Gartendirektion, as In addition to park investments and greening works this year, afforestation and greening will focus on landscape design and maintenance and repair work. Our Parks and Gardens Directorate teams, who are making intensive efforts to make every part of Yeşilyurt look more spacious, beautiful and green, will organize the landscaping for our cultural, artistic and social spaces, which we will put into operation on an area of ​​Approx 5 dekar next to our Çilesiz Aksa Mosque They are working on improving the website. We will have developed the dimension of our park projects along with the cultural and artistic spaces that we will commission in this region, where infrastructure works for the erection of irrigation systems, placement of lighting poles and greening works continue. ' he said.
President Çınar, adding that they attach importance to the design and service areas that will contribute to Yeşilyurt's image and brand value, said that they attach importance to the new park areas: "Apart from being the largest district in Eastern Anatolia, is it is also one of the most popular districts thanks to recent visionary and modern investments. We are constantly developing and promoting our park projects that enhance the image and identity of our Yeşilyurt. We try to make our parks special centers where, in addition to green spaces, camellias and children's playgrounds, social, cultural and artistic activities can take place. Together with our new generation parks, which have different and attractive areas that meet the needs of all walks of life, we are also doing exemplary work in this area. We will host poetry evenings, concerts and various organizations by creating social, sporting and cultural spaces that will appeal to our children, youth, adults and elders in our new social living area that we will build behind our Çilesiz Aksa Mosque. In our new generation park area that we will build here, our citizens of all ages will spend their time profitably in every respect. With the park investment that we will build here, we will not only increase the amount of green space per capita, but also support the social and cultural image of Yeşilyurt very importantly. By building such decent, modern and comfortable living spaces in each of our neighborhoods, we are working hard to ensure that all of our central and rural living spaces develop at the same level and look to the future with the same hope," he said.
Notice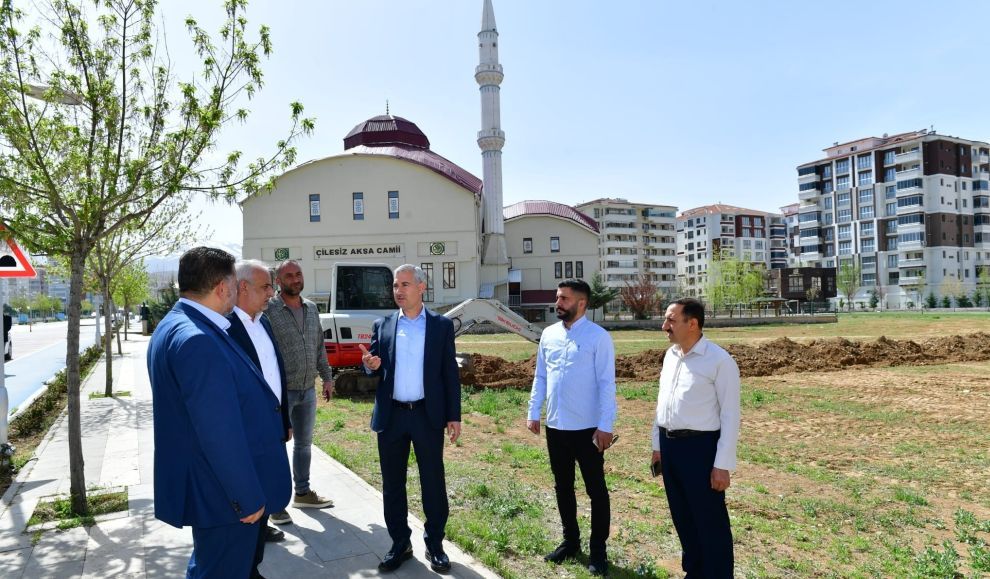 WARNING: The above news-like research, news, interviews published on our website, mostly with the signatures of our correspondent friends or the press organizations to which they belong, are unfortunately published by some so-called "work thieves" – one of them in particular all the time – by some so-called Internet publishers, either accurately or in small portions, and may be published in their own publications through amendments as if it were their own special research or news. I would like to reiterate that there are those who have nothing to do with the news source, research or intelligence agencies who believe they are doing journalism-journalism and thus deceiving the public by "demolishing" the work of real journalists ". which has been "revealed to the public" and indicating that these elements are "real journalists". We warn them against stealing their manpower.
WARNING: Comments that contain profanity, insults, insulting phrases or innuendos, attacks on beliefs, are not written with spelling rules, do not use Turkish characters and are written in capital letters will not be approved.