class="medianet-inline-adv">
The French actor gained international recognition in 1984 when he starred in Hugh Hudson's films Greystoke: The Legend of Tarzan and Lord of the Apes. In the same year she played her first leading role in a French film, together with Catherine Deneuve in Paroles et Musique. His 1986 production of Highlander (The Scot), in which he played the role of Connor MacLeod, was the high point of his career. We chatted 36 years after the release of the cult film The Scotsman, which played a big role in the life of the successful actor.
◊ Looking back, what do you think of the success of The Scot?
– I can not explain. The reason I agreed to do The Scotsman wasn't because it was an action film. All I can say is that I think it was a romance film before it became an action film. It was also about the romantic side of immortality. The theme of immortality is explored through a character who carries violence, pain, love and sorrow on his shoulders, yet is positive.
You move on… You lose the people you love, you still have to pull yourself together, you need to keep smiling…
You have to keep living with the pain that life causes. It doesn't matter if you are a 12 year old kid or 25, 30, 50 years old… I believe this is a feeling within us that will never leave us.
◊ You said immortality and the romantic part of immortality… Do you think immortality is a secret desire of mankind? What do you think of this concept?
– If I had a choice, I would choose to be immortal, despite all the pain that entails. Because I want to know what will happen in a thousand years, in a hundred thousand years. Assuming I'm healthy, of course.
IT WAS AMAZING TO MEET FREDDIE MERCURY
◊ The film's success is also influenced by the combination of the legendary band Queen with their songs. Did you have a chance to meet Freddie Mercury and the other members of the band?
– Yes, I met Freddie Mercury when I was shooting the videos. We were shooting in England. It was great meeting him, getting to know the group. It was great meeting Freddie Mercury. It was incredible that they held a private concert for 15 people for 48 hours. There were four members of the group and 10-12 team members on stage. Queen was ours for 48 hours.
◊ Apart from Queen, what memories do you have of the film "The Scotsman"?
– Director Russell Mulcahy of course… He's an incredible director. One of the best visual directors I know. His ideas, his imagination, his perspective on the essence of the recording is incredible. And of course one of the greatest encounters with Sean Connery…
Sean was a very humble man, a gentleman, very respectful of people.
It was him and he wasn't pretending to be anyone else. And I really appreciate that in people. Don't try to be someone else, be yourself. Sean Connery was like that. He was a great friend. I miss him. I wish there were more people like him in the world.
◊ Moving on to Sean Connery… I read that he was only on set for the film for a week, but I imagine it was an unforgettable experience for you…
– We went to our first meeting with Sean Connery with the producers. We walked through the Scottish countryside, drank good Scotch whiskey in a few bars and got to know each other. And you know, Sean either likes you or not as soon as you meet.
So you don't have to talk for hours to know if he likes you or not. Because it shows up right away. Our acquaintance went very well. We immediately connected to his character's charm, generosity, humor and sense of communication.
class="medianet-inline-adv">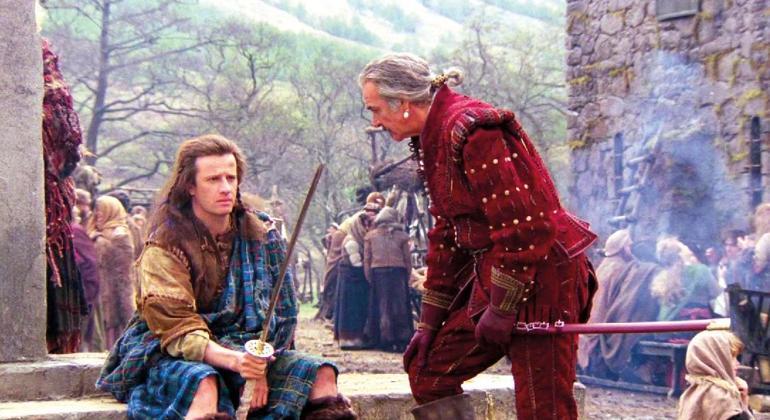 EVERYONE IN OUR INDUSTRY IS NEUROTIC
◊ I would like to comment on your recent project "Call My Agent". How did you come across the project?
– First of all, the producer of the series, Dominique Besnehard, was the first casting director I met when I came to Paris. I was 19, Dominique should have been 29. He was the casting director.
He was an assistant to one of the best casting directors in the world. Since then we have remained friends. Time passed, I made "Greystoke". We still remained friends.
A few years ago he asked me to be in the drama Call My Manager and explained the concept to me. "Absolutely," I said because it sounded so funny.
Our industry is the craziest, especially at the agency management level. How can I put it, they're all neurotic people… There's always competition. In the first episode, they ask my fake daughter: "Who is your father?".
The girl doesn't know what to say when asked and suddenly says "Christopher Lambert". Then, in the second part, her friends say to the girl: "Oh my god, my god, your father is here". The girl doesn't know what to do because she lied and I'm not her father.
Then I keep looking at the girl and leave my phone number on her desk as a joke and leave. I think something like that should of course remain a joke.
◊ Why?
– Just between us, what is a 60-year-old man doing with a 20-year-old girl? I know they exist, but they don't make any sense! What do they tell each other, what do they talk about, what do you exchange about life, what do they have in common?
If you are 60 years old, you should know and understand that it is the right age to be with a woman between 40 and 50 years old. Beyond that is nonsense.
Stupid for the boy and stupid for the girl. Ridiculous for both parties. One thing is for sure, most of the time these relationships are not about love.
◊ Do you find it difficult to decide on a project?
– I do it when I want to make a film and its subject attracts me. This can be a scene in a movie or the whole movie. It does not matter. For example, last year I did a movie called The Creeps. I was so amused by what I wanted to do in this film that I couldn't say no.
class="medianet-inline-adv">
WOMEN MUST RULE THE WORLD, NOT JUST THE MOVIES
◊ I would like to ask about your "White Material" film in which you acted in 2009. We talk a lot about women directors today, you worked with a director and a writer in 2009. What can you say about this experience?
– In my opinion, women should rule the world, not just the movies! Claire Denis has always been a director, writer and producer of her own films. He struggled to do everything on his own because he had to fight for that.
As you said, it wasn't common to have a female director and especially not a strong female director. For example, we waited 4 weeks for a helicopter to shoot.
Since there was no helicopter, we shot an hour a day. "We can't keep filming like this, we're losing a fortune," said the producer.
"It will be like that or I'm leaving," Claire replied. he was strong
She wasn't stupidly strong, but… She was a woman who knew exactly what she wanted and what she was doing. I had a great time with him. He's very sensitive and in constant pain, but he makes great films.
class="medianet-inline-adv">
I AM STILL ELIGIBLE TO WORK
◊ You were one of the It-Boys of your time… If I ask who Christopher Lambert is today…
– Still willing to work… When I was 33-34 years old I realized that I wanted to do too much and that one lifetime was not enough for what I wanted to do. However, I have started doing other things. I made plates for supermarkets, then I moved and got into real estate, then into the hospitality industry.
I'm still in the hospitality industry. I also have a tech business. On the side, I take the time to shoot two to four films a year, depending on the size of the role.
I'm a movie geek, I'm a movie buff, but we can talk about different things, right?
class="medianet-inline-adv">
I WAS VERY IMPRESSED BY THE PERFORMANCE OF THE PLATFORMS
◊ With the epidemic, the cinema industry was in a major upheaval. Digital platforms proliferated and challenged traditional cinema. I'm curious about your thoughts on this change that comes with technology.
– What struck me about the epidemic was the power of platforms. Platforms will replace cinema in many films. The movies I think will hit theaters will be blockbusters like Avatar, Titanic, Mission Impossible, and Megascope movies like Gone With the Wind. Because these movies require a big screen, there will be movies in theaters that want totally different sound and effects.