Civilized Taylan utaylan@hurriyet.com.tr
Meltem Kaptan was the winner of this year's Berlin Film Festival, which presented the award for best actress without discrimination between men and women. The actress, who won the award for Rabia Kurnaz vs. George W. Bush, which tells the story of a mother's struggle: "The film is about the power of mothers around the world…"
class="medianet-inline-adv">
"Rabia Kurnaz Against George W. Bush," which chronicles the struggle of a mother trying to rescue her son from Guantanamo, the US military base in Cuba, was one of the films selected for this year's 72nd Berliner Film Festival stood. Meltem Kaptan, the leading actress in the film, which will be shown on the MUBI cinema platform in the autumn, was awarded the Silver Bear among master actors such as Juliette Binoche and Charlotte Gainsbourg. This year, for the first time, the award was given taking into account gender equality without discrimination between men and women. We met and chatted with Meltem Kaptan, who won the Best Actor award at one of Europe's most prestigious film festivals in Beyoğlu.
*How did you feel when you won the Silver Bear?
Of course I flew. It was something between a dream and a dream. The world premiere of the film was also at the festival. It was a great event for me to see it there for the first time. Rabia Kurnaz, who I played, was also there. He liked it very much. "It's like I was in the movie," he said.
* What was your experience when you accepted the award?
It was so absurd; My idols like Charlotte Gainsbourg and Juliette Binoche competed with me. For one, it was very difficult to sort it out in my head. When I got there, the voices of "You'll definitely get the award" started getting louder and louder. On the other hand, I suggested to myself: "Meltem, the press may say so, but don't get carried away." First, our screenwriter received an award. While I was thinking, "The script is won, I can't get the award anymore," my name was called. I was surprised what happened.
class="medianet-inline-adv">
Meltem Kaptan studied Rabia Kurnaz before the film, working on her diction and body language.
*The other candidates were also really strong players..
This year, discrimination between men and women in awards was abolished. It is now only awarded as the best player. When both men and women received the same prize, the competition increased even more. In the movies I've seen, there were such strong male actors…
*In your speech you announced that you received the award on behalf of "mothers whose love knows no bounds"…
At that moment I wanted to present this award to Rabia Kurnaz and other mothers. I don't think this film is just a German-Turkish film. What is mentioned in the film is the power of the mother. This is a universal problem everywhere. Mothers have the power to forget themselves and everything and go to the ends of the earth. While I was at the press conference, a Mexican mother stood up. "You have to take this movie to Mexico, it could be a Mexican mom," she said. It was there that I realized that this is a film that appeals to all mothers in the world.
*How did you prepare for the role of Rabia Kurnaz?
This happened 20 years ago. Our director Andreas Dresen has been preparing the film for 14 years. When I read the script, I was very impressed. At that time I mainly did comedy, such topics were far from me. But what Rabia did with her motherly power surprised me so much that I felt like I had to play her. First I researched Rabia Kurnaz. I worked on his diction and body language. I've tried to reflect it in my daily life. My wife said: "Look, Rabia is back". I cooked like him, I behaved like him. When I met him I thought I should play a funny character. A spiritual woman. It can make you cry and laugh at the same time in one second.
* Are you married? Do you have children?
We have a very cute dog. He's our baby too. When I make something, I want it to be complete. Either the art or the child prevails. I don't want it to be like this.
*You were born and raised in Germany, right?
My family migrated from Rize years ago. My father is a senior technician, my mother is a teacher. I spent my childhood dreaming of big cities in a small town in Germany. When I was a kid, I used to say to my parents: "One day I will go to Istanbul with my suitcases and I will never come back."
class="medianet-inline-adv">
As a child, I always said: "One day I will go to Istanbul with my suitcases and I will never come back."
* Was it your dream to come and live in Istanbul at that age?
Yes, my dream was Istanbul. We used to come every year. This is a happy place where people talk when it comes to their mind and compliment the person in front of them. I haven't seen that in Germany yet. The people there are more introverted, calmer.
*Have you ever faced prejudice as a Turkish actor in Germany?
Initially, whether it was the productions you acted or your stand-ups, they always included roles related to being Turkish. Now there are faces of Turkish descent all over the media. You touch everything. I adopted the German culture, but all the cultural wealth I took from Turkey is with me. I see myself as a modern German of Turkish origin.
class="medianet-inline-adv">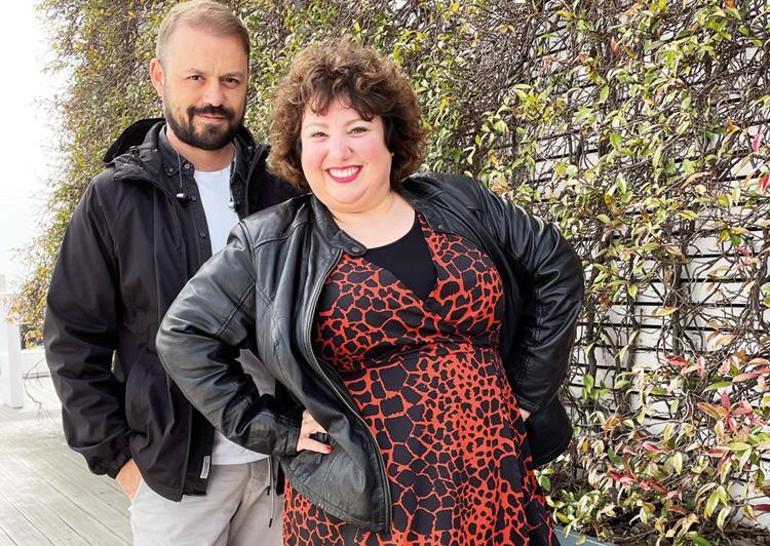 "Now my wife is banging her fist on the table"
*How do you spend a day in Germany? do you have any hobbies
Honestly, one day doesn't keep up with the other. Now even my friends are giving up. One day I'll be in Hamburg, one day I'll be in Berlin. I usually spend a lot of time on the train or plane. My comedy-based program, where I bake cakes and tarts on a German channel, continues. i love cooking Whenever I have time, I paint oil paintings. My brother is a soloist, we go to the studio with him from time to time and sing songs. But the moments I find myself are when I walk my dog.
*You have a book entitled "I'm in love, I'm engaged, I'm ruined: My Turkish-German dream wedding". Do you experience cultural differences with your German spouse?
Turks in Germany usually host weddings to which 1,000 or more people are invited. We had a wedding for 130 people. When I told my mom, she said, "Your wives get counted too, right". My wife's mother, on the other hand, broke down when we said 130 people (laughs). It's too much for him. My wife is a lawyer, she doesn't react when something happens. I said to him: "That's not the case, we need a good culture of discussion". Now he bangs his fist on the table (laughs).