The air date of Erşan Kuneri, the new series by famous comedian Cem Yılmaz, has been announced. The 8-episode series will air May 13 on Netflix digital broadcasting platform.
Famous director, actor and comedian Cem Yılmaz has signed a number of projects with a unique theme.
Yılmaz adapted the character of Erşan Kuneri, who previously appeared in front of audiences in the films GORA and Arif V 216, into a TV series.
The Erşan Kuneri series, written, directed and starring Cem Yılmaz, will be broadcast on the Netlfix digital broadcasting platform.
The series, the first season of which consists of 8 episodes, is about Erşan Kuneri's experiences in the late 1970s and early 1980s.
The audience was curious to see when the series, which has been in production for some time, will be broadcast.
On air May 13th
The air date of the Erşan Kuneri series, which brings together names such as Cem Yılmaz, Zafer Algöz, Ezgi Mola, Çağlar Çorumlu, Uraz Kaygılaroğlu, Merve Dizdar, Bülent Şakrak, Necip Memili, Özkan Uğur and Nilperi Şahinkaya, has been announced.
Cem Yılmaz announced on his official Twitter account that the series will air on May 13th.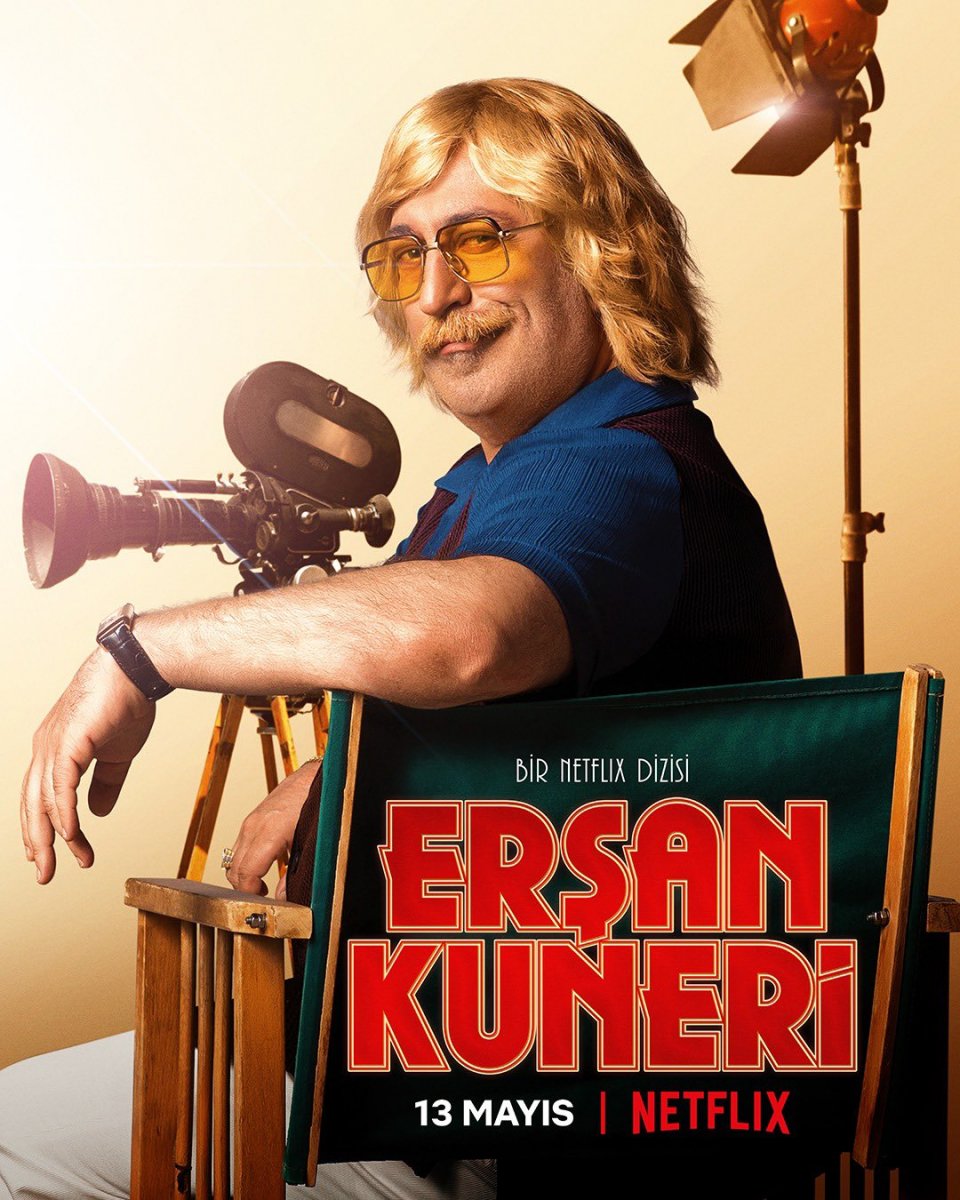 Shared Erşan Kuneri's letter
Yılmaz, who shared the series' poster on his social media account, also published a letter written by the character of Erşan Kuneri.
Erşan Kuneri's letter contained the following statements:
"I'm back at the typewriter. I am in the office. Our film I Couldn't Get Enough did a great job. It's like we got it together. Mommy is happy too. Miki Bar is also doing very well. It's been 2 years with bitter and sweet. We made a total of 7 films in these 2 years. There I am, there are Muammer, Alev, Seyyal, Feride, Tumtum, Altın and Payro. What I said to Alev when I talked about Kuru Murat, I said what we lack, we make the most beautiful. I just met Payro Kemal yesterday, he's mischievous on the sets. Brother says: "You used the blue box in Erman first, now everyone is looking for flying." Comedy, adventure, love, revenge… 7 movies… Some of them we shot in 3 days, others in 40 days. Sometimes you work 40 days, 40 years remain unforgotten.
"I am Erşan Kuneri, a cinema worker as much as I am a star. If someone finds out about it 40 years later, watches our films and remembers those days, I would be happy. Think about it, it's 2022, maybe we don't even exist. But somewhere our film is running. How nice would that be. Make a note of it, it appeared on the Alev star chart last May 13, 2022, maybe that day is today. I loved and love you all and I will love you. Watch me wherever you see me, there is no better gift than this. Your star is beside you, not in the sky. Ersan Kuneri. 1982/ Istanbul"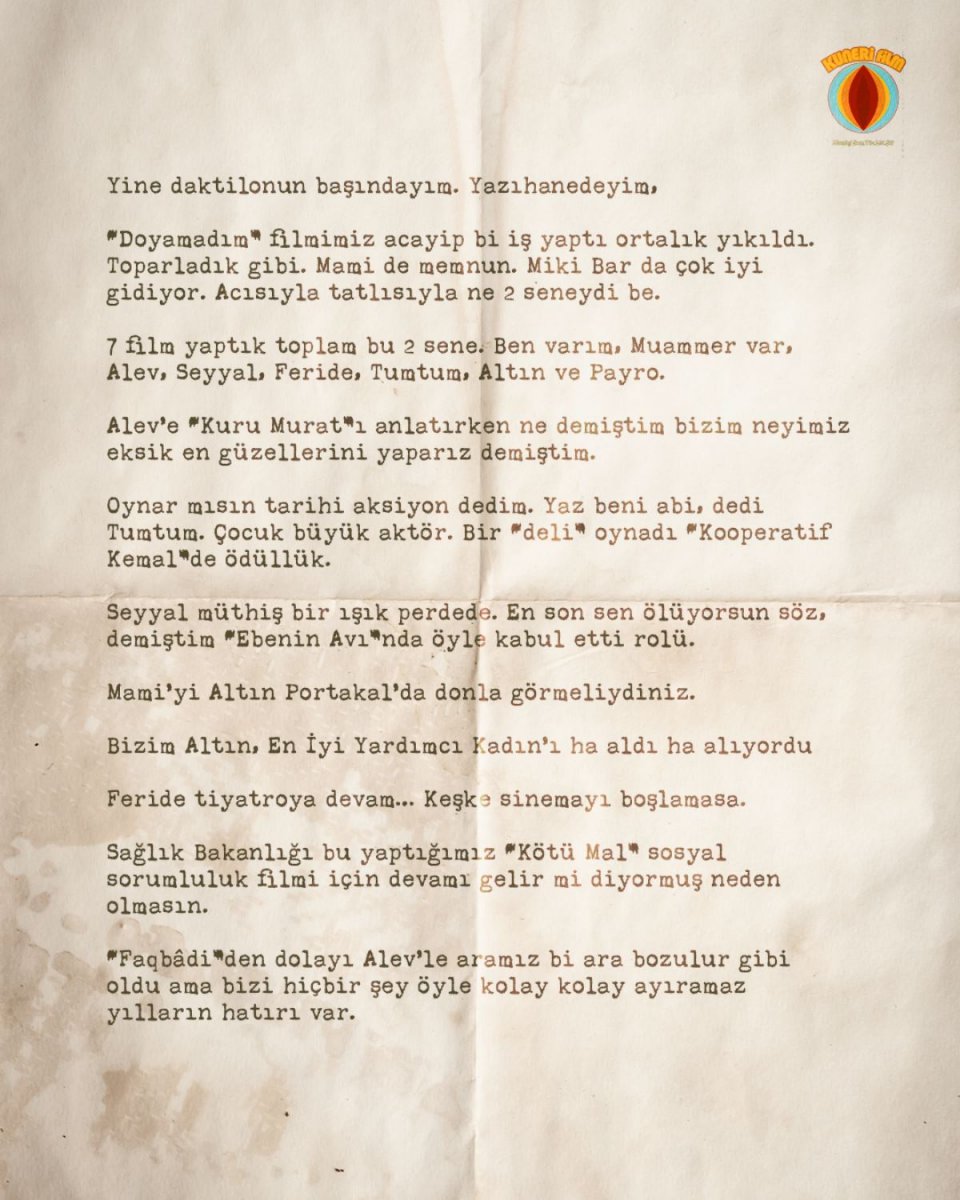 Who is Ersan Kuneri?
Erşan Kuneri is one of the colorful characters in Cem Yılmaz's films. Erşan Kuneri, known for his films GORA and Arif v 216, is a filmmaker and entertainment venue owner.
The first season of the series is about the cinema adventure of the erotic film producer Erşan Kuneri between 1975-78.