The composer of unforgettable works like "On the Road to Adana", "Canım Gülüm Postacı" and the author of many folk songs, Abdurrahman Yağdıran from Adana passed away.
It has been learned that burial procedures will be communicated in the coming hours.
As Kucuksaat.com, we wish the deceased God's mercy and patience for his family and relatives.
TANER TALAŞ VISITED
Taner Talaş, the author of the book "Portraits Gallery from Adana", visited Abdurrahman Yağdıran on February 5, 2022 as part of his project to visit the living people of Adana whose biography is included in the book and have them sign their own Pages.
Yağdıran immortalized the happiness he felt over Talaş's visit by writing his feelings in the book "Portraits from Adana" which contains his own biography.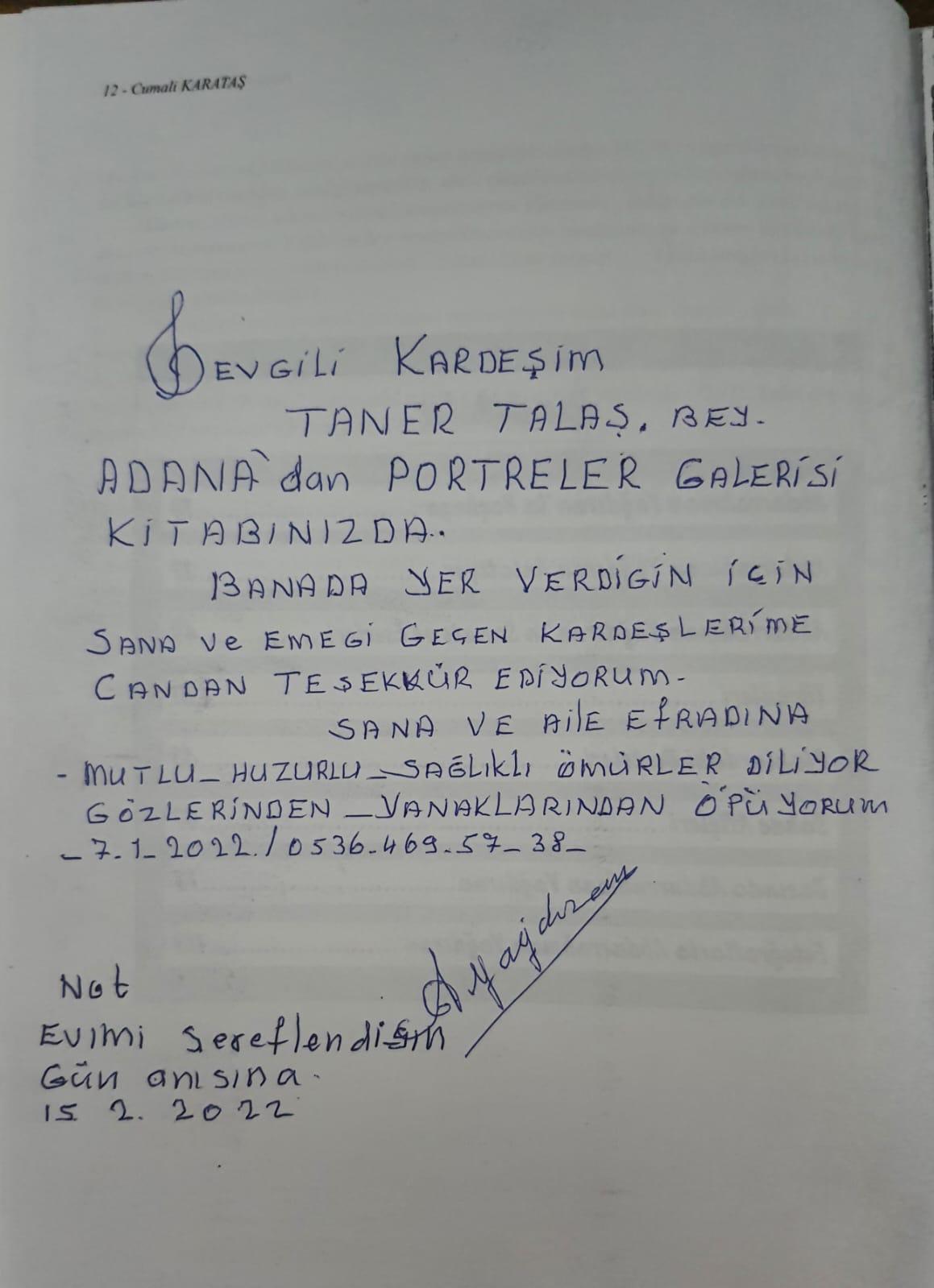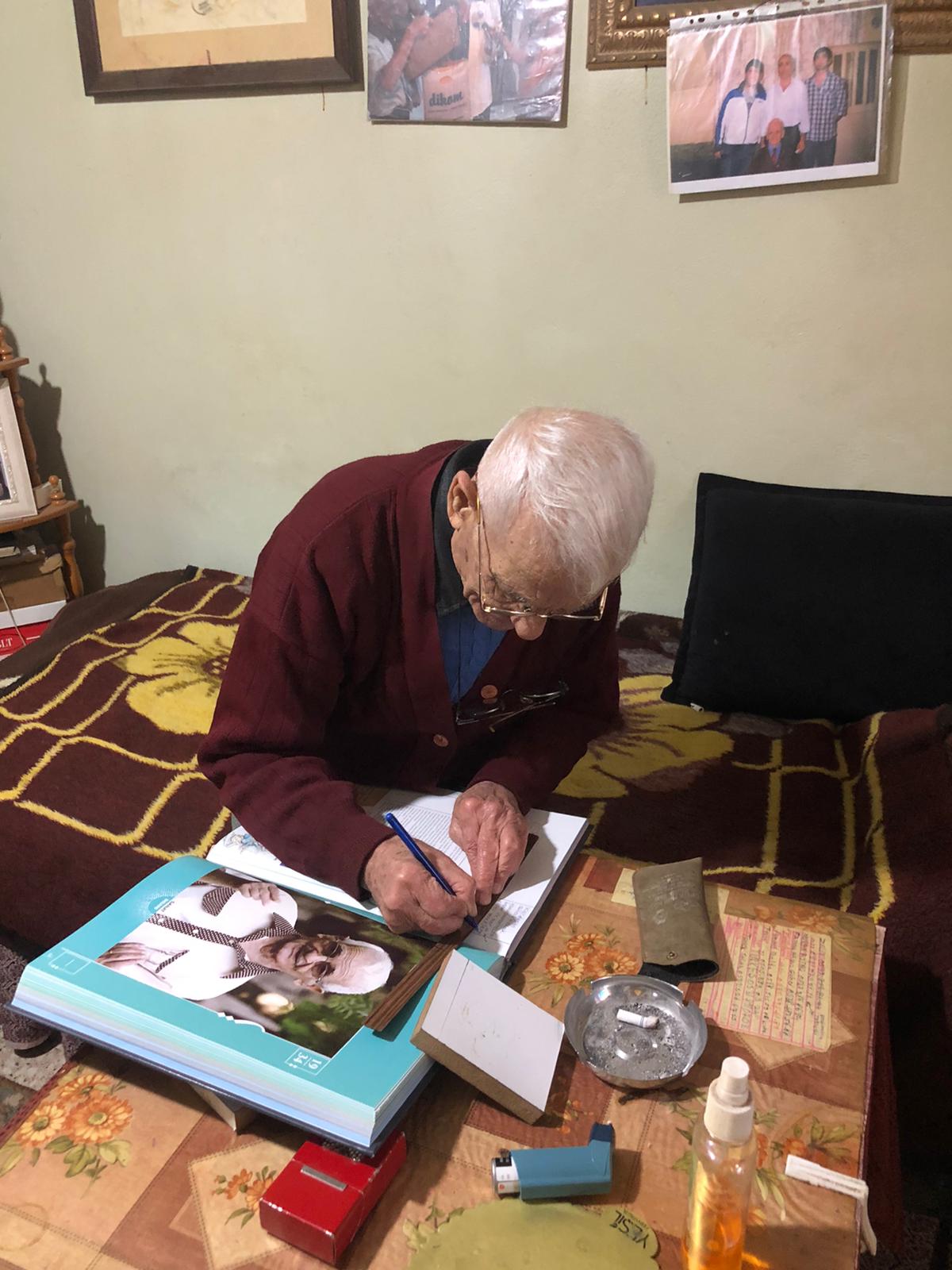 WHO IS ABDURRAHMAN YAGDIRAN?
1934-2022
He was born in 1934 in Istiklal district of Adana. His father is İbrahim Bey and his mother is Suphiye Hanım.
In 1950 he composed his first composition, the song "Will My Hot Love Never Come", in a cotton field in Adana. In June 1952 he composed the Saba song "I Love No One", the lyrics of which belonged to Mustafa Malkoç. He composed these compositions without ever playing a musical instrument.
He began his artistic career in 1956 by singing folk songs in saz houses and casinos at night.
He could not go to elementary school for various reasons. During his military service in Istanbul's Selimiye Barracks in 1955-57, he learned to read and write. After returning from the military, he sat the external exams at Seyhan Primary School, received his diploma and joined the PTT administration as a "postman".
In 1959, he entered the Music Department of the Public Education Center with the encouragement of Kazım Sanrı. He first learned to play baglama. He benefited from Kazım Sanrı and Kazım Karaörs. He took method, grade and mode lessons from the pharmacist Mahmut Akan, Ali Şenozan (Ali Kaptikaçtı) and Arif Nihat Aka.
While working as a postman at the Adana PTT Administration in 1962, he pursued his music studies together and composed his own song "Postman, Postman Dear Rose Postman".
He worked at Adana Radio in 1963. He collaborated with artists such as Kazım Sanrı, Müslüm Gürses and İzzet Altınmeşe. He retired from the PTT in 1982 and continued to compose. He kept Çukurova and Adana alive in his folk songs and compositions.
He entered the Adana Metropolitan Municipality Conservatory in 1985. In this institution he gave lectures on method and mode. Yağdıran, who has around 100 compositions, has been the subject of films on Turkish radio, records, TV series and cinemas.
"The Nightingale Landed on the Roses", "Mountains Without Conscience", "I Picked the Apple From The Branch", "A Beautiful On The Roof" and "Groom Come Play" but the most talked about are; "Postacı" and "Adana Yolları" are folk songs.
Many students raised by Yağdıran participated in the saz and performance committees of TRT and the choirs of the Ministry of Culture. Examples include Hasan Öz (Ankara Radio Folk Music Singer), Serdal Küçükçınar (TRT Gap TV Producer), Nuray Topak, Mediha Uçar (Ministry of Culture Folk Music Choir). His 11 compositions have been included in the TRT Turkish folk music repertoire.
His folk songs have been featured in the unforgettable series of Turkish TV series "European Side", "White Poppy" and "Hanimin's Farm".
A postage stamp was printed in his name by the General Directorate of the PTT. Abdurrahman Yağdıran is one of the founders of Çukurova Folklore Association.
In 2013, Mehmet Günay Eser, a student at the Department of Music Education, Ondokuz Mayıs University, researched Yağdıran's life and wrote a book on his behalf.
At the 2016 concert "60. Art Award of the Year.
In 2018 he compiled and published his memoirs and art in the book "Postacı".
Yagdiran married in 1959 and has two children, Hulusi and Mukaddes, and four grandchildren.
He died on April 25, 2022.