TOLGAHAN SAYISMAN
Producing was something I designed 10 years ago. I implemented it 2 years ago. Mirrorless Haluk is my production company's first project. I have 12 other projects.


We were putting out a comedy so I could have a job while I was making it. There aren't many comedy films in cinemas post-pandemic. We wanted to evaluate this gap.


I'm someone who cares a lot about image quality. That's why we spent money and worked with state-of-the-art cameras. Our intention is to make a sequel to the film. i love comedy


During the pandemic they loaded cortisone in the intensive care unit, which made me very swollen and put on 15 kilos. While I was ready to gain weight, I thought I should play that role, and we also benefited from the technology. I put on a costume, put cotton on my cheeks. The body belongs to someone else, the head is mine.


We have been working with Erdal Abi in Elvada Rumelia for 3 years. Erdal Abi lived in an old caravan. I did not know that. I used it like my own trailer for 4 days, it didn't say anything. Then I apologized. It's a name I took as an example. He would do anything for the role, he even said goodbye in Rumelia to shave my head. His presence in this film was a great strength for us.


Working with theater actors is torture for producers. We make a shooting schedule, but it's their game. Setting the dates is killing me.


Efehan is in 2 year syndrome, very naughty. A sister came too. It makes us incredibly tired. We were confused how to protect Alina from him. When he sees me kissing and hugging him, he immediately wants to hurt him. The girl was different, they really said. However, we cannot love with his brother.
ERDAL ÖZYAGCILAR

TOLGAHAN LIKE MY SON
I love Tolgahan (Sayışman) very much, he is like my son. His dedication to the industry deserves recognition. He buys his yacht, takes care of his life, but loves his job very much. I wanted to contribute by taking a role in the film that came out of the production company he founded.



The latest technology used worldwide was used in the film. He took part in emotional love roles, but Tolgahan has a funny side. I think coming out with a comedy is the right choice for them.



In the film, I play a police chief nicknamed Mirrorless. If you only play what's written on the left side of the script, it won't play.



I've been watching the BBC on my bedside TV for years. Even someone playing a small role does it so well. We all mourn and cry in the same way.



The work we do is twofold enthusiasm, without love it doesn't work. The master-apprentice relationship is just as important as the conservatory. Cooperation with the acting coach is not possible for 2 months.



My daughter Zeynep loves her job. At the age of 4 he entered the State Opera Ballet with first place. He stars in the play "My Most Beautiful Piece" which he wrote and directed. I address the refrigerator in the game. My game, Welcome Painter, has been running for 8 years.



I've known Tolgahan since Farewell Rumeli. We were like an away team on that show.



I don't like the director who doesn't talk to me after playing the scene. You shouldn't think that Erdal Özyağcılar can't be named. I love to rehearse. Let's do it 10 times, but after saying the engine, let's shoot it 3 times. When we can't draw, I go ice skating. So his director told him to relax: "I'm a very flexible actor. I said, 'I'm going to hop on and off the soda bottle.



I have a 700 year old olive tree in Küçükkuyu. I am very happy there.
OZNUR SPARROW

GOOD ALL VISIBLE HE'S CONCERNED



In the film I play the role of Defne, Efehan's ex-girlfriend who had a sensational relationship. There is a need to make more movies like this in the action comedy genre.



The worry about looking good on everyone began. Trying to look good even when you're upset kills credibility and sincerity.



I have an important musical background. My sister plays pianist, my sister plays cello. My father is a music teacher, my mother always sings. I entered the conservatory. I attended master classes and good orchestras abroad.



There was a turning point in my life when I was in my third year of university: a theater friend of mine was acting in a television series. "They're looking for a girl like you, are you playing?" called. I said, 'I'm ashamed. "I'll train you," he said. That's how I got into the daily series. Then I started studying acting. Things started to change when she later acted in a theater.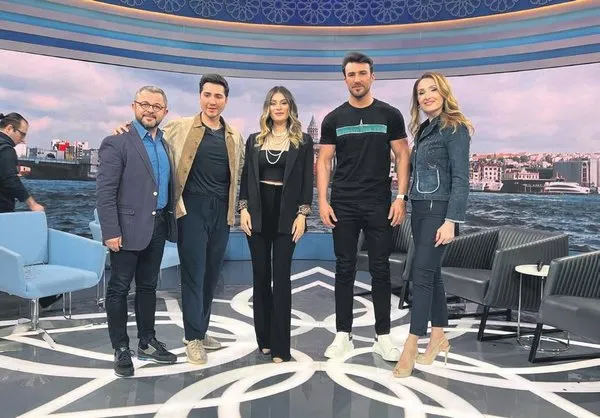 Burak Orhan

MY FAMILY IS PROUD OF ME NOW



I studied molecular biology and genetics. As I read, I realized that I didn't feel like I belonged there. I have been interested in music and the stage since I was a child.



I applied to the New York Film Academy, which was a secret from my family. I got a scholarship there. My family told me not to leave until I finish school. I did my Masters in Cinema and TV. I took lessons from Ayla Algan. My professional music life started in 2020. My family is proud of me right now. I will release a new song in June.
EZGI BICILI

I RECEIVE THE OPINION OF ZİYNET SALİ ON EVERY PROJECT



The pandemic process bypassed production. My song I'm Carraft is doing well. I have a new song for the beginning of summer. My wife is also a musician, but she has a different career.



I've worked with names like Ajda Pekkan and Ziynet Sali for a long time. I had a musical education, but when I worked with them I started from scratch. Both are great schools. I stopped being the singer of Ziynet Hanım now she has become my producer. I get your opinion on every project.
HOPE MIRZA

TURKISH MEN LIKE MEN



My adventure in the series "Establishment Osman" lasted 20 episodes. It was like school.



In 2016 Mr. I was selected as "Best Physical Man" and "Manly Man" among 60 countries in global competition. I am the first person to receive this award in Turkey.



I have modeled in China, Spain and Dubai. I had a catalog shoot in Italy. Compared to men in the world, Turkish men are like men.