İzzet Yıldızhan, father of 9 children, stated that he was very attached to his traditions and that they lived the holiday craze to the end. Yıldızhan said: "All my children kiss my hand and get their pocket money. Son, because there are so many nephews, the holidays are expensive for me, but he said.
We got together with the singer İzzet Yıldızhan in his house in İzmir with his 9 children. Yıldızhan in her special interview with GÜNAYDIN ​​​​​​for the holiday; He made statements about his relationship with his children, holiday rituals, the artists' attire and many life issues.
■ you work very hard with your family Do you have weekend routines? at breakfast Or would you meet for dinner and chat?
Although I'm known as an entrepreneur and artist, my family is the focus of my life. Years ago we settled in Izmir to live a calmer, stress-free life. My morning and my evening are my children. You are my today, my tomorrow… When I'm away on business, we often video chat on the phone to satisfy my longing. You are now grown. Well, my kids are my friends. Many children are not a problem, they are a blessing.
■ What do you talk about with your children? during the day Do they tell you what they did?
Until now we had no secrets between me and my children. As I said, in addition to the father-son relationship, they are also good friends for me. You are not hiding anything positive or negative from me.
■ Interested in your education?
I'm interested in everything, not just their education. I attach great importance to the education of my children. My only wish is that they at least go to college and get a master's degree. Even if they do best in school, they can do whatever job they want.
■ What does vacation mean to you? traditional festivals Are you partying in any way? your elders Would you visit and call us?
To me, the holiday represents spirituality, unity, togetherness, the day when all family members are together and quarrels are over. I come from a family that values ​​its traditions and customs. Maintaining this is my most important task.
■ How is the first day of vacation for you?
The day begins for us with the Eid prayer. We get up early and pray with my children. Meanwhile, the table at home is ready. You know we're crowded The feeling of eating together at a large table is different. Then I go to my hotel and celebrate with my co-workers and friends.
■ Even when your children grow up, it's a holiday Are you continuing your pocket money ritual?
I agree. As I said, I am a person who values ​​traditions and customs. All my children, including the eldest Mustafa, kiss my hand and take their pocket money. Although they have grown up, the child is something else. Since I have many nephews and sons, the holidays will of course cost me dearly, but whatever. This ritual continues.
■ Years ago "The I have a jacket when I go out There wasn't even a waiter I borrowed your jacket pants, sweater, etc I spent a winter in shoes" you said. Today on your stage the expensive one you wear and stylish jackets are reminiscent of this time. send?
No shipping. I'm on stage as it should be, live as it should be. But your question moved me, took me back to the old days. I never forget where and how I come from. I have come from then to now with that voice and determination to work that God gave me.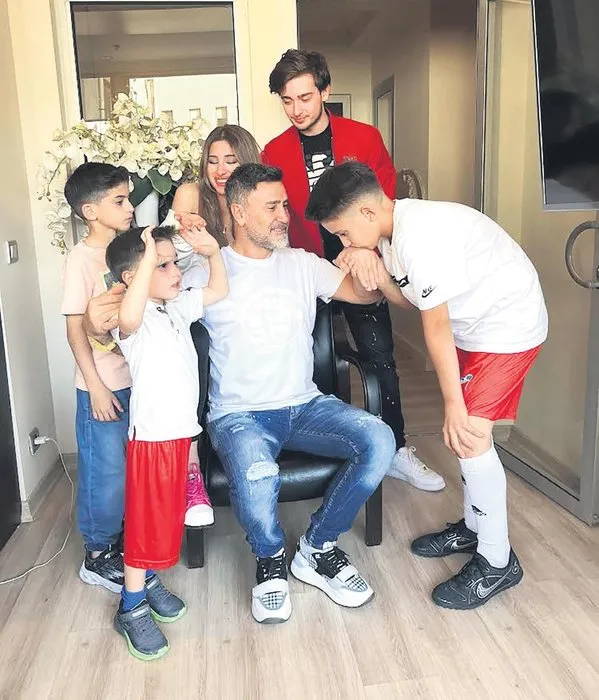 MY ONLY WISH IS TO RAISE BEAUTIFUL SONS FOR THE NATION
■ You have a big family. none Fear of the future for your children are they alive
Alhamdulillah it's not happening. Years just my family I've worked for it, I've tried. At the moment I have many companies. although Although I am a person with 9 children every ground for their future I have prepared. Anything I want from them, of course her ability to put brick on brick. I as long as it can be a job and a source of bread for the people I'm a happy person. More than 700 fates There is one person I associate with. I wish get things done, my sons When it's over, let that 700 number be 7,000. It will benefit the future, the fatherland and the nation My only wish is to leave behind a generation.
I SPEAK THE LAST WORD AT HOME
■ How is your communication with your children? Are they afraid of you?
Have fun with them sometimes, sometimes We spend great time together. she something I don't want out of my eyes even they understand. although friends Although we are like fathers, the concept of father is for them. is different. They don't say a word about your father.
■ Do you make all the decisions in the house?
No, no, but I have the last word. true…
For me, modesty and coming out of the kitchen are important.
■ You employ your children in your hotel. Did you want them to know the value of what they have?
I agree. I've been a working and manufacturing man for as long as I can remember. When that day comes, my only wish is to see her at the forefront of my businesses. Of course it also depends on them. They worked at my hotel in Izmir during the summer. Leave me in the chair like this, I don't have a fait accompli. Firstly, humility is very important to me and secondly, coming from the working kitchen. You cannot be the boss of a job that you did not do as an apprentice or journeyman. Therefore, they also work in the laundry if necessary.
I LAUGH WHEN YOU CRITICIZE ME
■ In the business world outside of your art life You work in many areas. You give bread to hundreds of people. Your attitude is admirable…
If I have no use for my country, my nation, If I can't live for the people, it's a shame let me be I'm interested in people's lives I am a person who is happy when he is touched. until 2023 The number of friends with whom fate has united me has reached 1000. I have a desire to remove it. Work for 2 people next to you I laugh a lot when people who can't give criticize me. So far it has gained from the scenes but wasted There are selfish people who have won. I can't be like her. This understanding is very contradictory for me. I touched her life I grow with people's blessings.